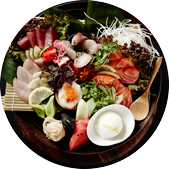 Banquets
Lunch Banquet (available until 2pm) $55 per person
miso soup

edamame

kingfish carpaccio

sushi/sashimi

pork gyoza
tempura prawns
goma salad
chicken karaage
rice

* minimum of two people
* gf / v option not available for lunch banquet.
* Please allow approximately 1 hour to finish banquet.
Tasting Banquet $85 per person (minimum of 2) / $125 with 5-course matching wine and sake.
Indulge in a selection of our favourite dishes (for two people or more in multiples of two).
Please allow a minimum of 2 hours for this option.
miso soup
edamame
sashimi
smoked salmon carpaccio
tempura prawns
yuzu butter scallops
nashi pear kimchi
wagyu beef tataki
goma salad
pan seared snapper
steamed rice
dessert gyoza (apple or banoffee)
*Please ask staff about any dietary requirements before ordering.
Sharing Banquet (minimum of 4 diners) $65 per person
edamame
nigiri sushi
sashimi
salmon avocado roll
pork gyoza
chicken karaage
kimchi
tempura prawns
chashu pork neck
goma salad
banoffee gyoza
rice (v/gf)
miso soup (v)
We recommend groups of ten or more choose the banquet option to ensure prompt service of food.
*Please ask about any dietary requirements before ordering.
Banquets available until 8:30pm.
3 Course School Banquet $25 per student (up to 2 teachers eat free)
(Students receive a serving of each item)
Cold dishes:
Cha-soba noodles
Sashimi salmon
Teriyaki chicken sushi rolls
Goma salad
Hot dishes:
Takoyaki (Seasoned balls of octopus)
Gyoza (pork dumplings)
Tempura vegetable / prawn
Miso soup
Dessert:
Ice Cream: Vanilla ice-cream with miso-caramel topping.
Drink:
Fruit juice
We offer the above meal for the competitive price of $25 a head but can only serve groups of school visitors in numbers up to a maximum of 60 people (including accompanying staff) per session. Up to two staff members are entitled to eat free of charge and we offer vegetarian or vegan alternatives to those with such dietary requests. Any allergies will be accommodated.
We would also kindly request that bookings be made for Monday, Tuesday, Wednesday or Thursday to accommodate our customers during peak business time on Fridays.
Find out more.