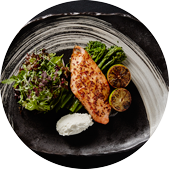 Dinner
Vegan and Gluten-Free Meals
All meals marked 'vg' can be prepared as vegan,
All meals marked 'gf' can be prepared gluten-free.
Please inform your attendant when ordering.
Tasting Banquet $85 per person (minimum of 2) / $125 with 5-course matching wine and sake.
Indulge in a selection of our favourite dishes (for two people or more in multiples of two).
Please allow a minimum of 2 hours for this option.
miso soup
edamame
sashimi
smoked salmon carpaccio
tempura prawns
yuzu butter scallops
nashi pear kimchi
wagyu beef tataki
goma salad
pan seared snapper
steamed rice
dessert gyoza (apple or banoffee)
*Please ask staff about any dietary requirements before ordering.
Sharing Banquet (minimum of 4 diners) $65 per person
edamame
nigiri sushi
sashimi
salmon avocado roll
pork gyoza
chicken karaage
kimchi
tempura prawns
chashu pork neck
goma salad
banoffee gyoza
rice (v/gf)
miso soup (v)
We recommend groups of ten or more choose the banquet option to ensure prompt service of food.
*Please ask about any dietary requirements before ordering.
Banquets available until 8:30pm.
Edamame - v, gf $6
boiled green soy beans seasoned with sea salt
Chilli Edamame -v $6
boiled green soy beans pan fried with chilli garlic paste
Pork Gyoza $16
pan fried pork, cabbage and shiitake dumplings, soy vinegar sauce (6pc)
Prawn Gyoza $19
pan fried prawn, garlic and ginger dumplings, soy vinegar sauce (6pc)
Vege Gyoza - v $16
pan fried cabbage, quinoa, kale and tofu dumplings with, soy vinegar sauce (6pc)
Chicken Karaage - gf $17
fried chicken thigh pieces in a soy, ginger, garlic and shiokoji marinade, spicy pirikara mayonnaise
Tempura Prawn $4.50 each
tempura battered prawn, tentsuyu sauce
Agedashi Tofu - v,gf $14
fried silken tofu in a soy, kombu dashi broth topped with nori, shallots, daikon, ginger and dried bonito flakes
Yuzu Butter Scallops - gf $26
Hokkaido scallops pan fried with spicy yuzu butter topped with radish and pear puree, yuzu wasabi cream, shiso micro herb. served with matching sake
Dengaku Eggplant - v, gf $18
roasted eggplant pieces in a sweet white miso paste, lotus chips, toasted sesame, shichimi pepper
Nigiri Selection - gf $28
Ten pieces of assorted nigiri (thinly sliced fish on rice) with ginger and wasabi.
Sashimi Taster - gf $19.50
Eight pieces sashimi with wasabi.
Ultimate Sashimi Taster - gf $68
Twenty-four pieces of our freshest sashimi with ginger, wasabi and sorbet.
Spicy Tuna Roll $18
Sashimi tuna, chilli hair, chilli paste and shichimi with spicy pirikara mayonnaise. 6pc
Scallop Roll $26
Inside out, sashimi salmon, avocado cucumber, spicy pirikara sauce, nitsume sauce, tempura crumbs, shallots, chilli hair, lightly flamed scallop.
Vegetable Roll - v, gf $17
Avocado, cucumber, pea sprouts, oshinko, asparagus and dutch carrot wrapped w/ zucchini strips. 8pc
Fresh Tasmanian Wasabi - v,gf $5
A piece of fresh wasabi stem from Shima Wasabi in Tasmania.
Nashi Kimchi - v, vg, gf $12
nashi pear and cucumber pickled in a Korean style chilli paste. (vegan and gluten-free option available)
Kingfish Carpaccio - gf $22
slices of sushi grade Kingfish topped with chives, soy caviar, red peppercorns, micro greens, ginger vinaigrette
Smoked Salmon Carpaccio - gf $24
slices of sushi grade Salmon lightly smoked, topped with Yarra Valley salmon caviar, chives, radish, micro greens, soy ginger vinaigrette
Wagyu Beef Tataki - gf $32
rare seared Wagyu striploin slices on grated daikon topped with chilli hair, chives, sansho peppercorns, soy ponzu vinegar
Goma Salad - v, gf $16
blanched English spinach with a thick sesame, soy dressing.
Chashu Pork Neck - gf $34
pork neck slow cooked in a sweet soy, ginger and garlic sauce, tonkotsu gravy, pumpkin and persimmon puree, pickled enoki and shichimi spiced pork crumbs (gluten-free option available)
Teriyaki Chicken - gf $32
sous vide chicken breast supreme with our house teriyaki sauce, carrot and ginger puree, beetroot and carrot kinpira, garlic dressed brussel sprouts and chicken skin crackling (gluten-free option available).
Sous Vide Wagyu Tenderloin 200g $44
grilled robata style with an Asahi Black and Okinawa brown sugar marinade, charred shallots, yuzu kosho mojo and hickory smoked salt and pepper.
Pan-seared Snapper Fillet - gf $34
seasoned greens, aonori butter, balsamic soy reduction and micro salad (gluten-free option available)
Tofu Steak - v, vg, gf $32
firm tofu pieces sautéed in butter, garlic and our house teriyaki sauce with Japanese mushrooms, asparagus
Flamed Salmon Avocado Roll 22
Salmon, avocado, Yarra Valley salmon caviar, pirikara mayo, nitsume sauce. (Dinner menu only)
Kingfish Tartare Roll 19
salmon, cucumber, avocado, w/ kingfish tartare, pickled red chilli, sesame seeds, mayo. (Dinner menu only)
Sous Vide Wagyu Roll -gf 24
Wagyu, avocado, cucumber, salmon roe, micro shiso, chives, wasabi mayo, burnt garlic oil. (Dinner only)
Sweet Soy Duck Breast 28
Thinly sliced sous vide duck breast with shichimi quinoa salad.