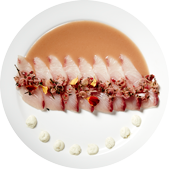 Japanese Craft Beer
Coedo Marihana Session IPA 4.5% $17
Marihana, which means "hop flower" in Japanese, has a delicate, citrusy hop aroma. With the contrast of its light golden hues and fluffy white head, this session IPA delivers a highly drinkable beer without sacrificing on flavor.
Coedo Shikkoku (Dark Lager) 5% $18
Coedo Shikkoku is a slow-aged dark lager (schwarz bier) with a glossy black hue, that contrasts with its tea-coloured head. Two types of black malts combine with six other malt varieties, to create a black lager that is smooth, light and balanced with a fragrant coffee and chocolate aroma. Named after the smallest of Japan's four major islands.
Coedo Beniaka - Imperial Sweet Potato Amber 7% $18
A signature beer from Coedo. This amber coloured, slow-aged Japanese super premium lager, is the result of our brew master's encounter with the choicest malts and the beniaka - a bright red Japanese sweet potato. There is a slightly higher alcohol content due to an extended maturation process, which deepens the richness and subsequently the flavour.
Coedo Kyara (Pale Amber Lager) 5.5% $17
Aromatic hops carry notes of white grapes and spicy citrus, while a fresh, clean bitterness unfolds on the palate. Six different malts are used to bring more expansive flavours to this well-rounded, medium-bodied brew. 'Kyara' is the Japanese word for 'aloeswood'.
Coedo Ruri 5% $16
A beautifully delicate japanese-style super premium pilsner with a nice contrast of white, soft foam and a clear, golden colour. It possesses a crisp and refreshing feel with a good balance of bitterness and a satisfying refined flavour on exit.
Coedo Shiro (White Lager) 5.5% $17
Coedo Shiro is a smooth non-filtered wheat beer with a cloudy but bright golden hue. Sweet, fruity aroma of banana and cloves that comes from the use of wheat malts and a specially selected top fermentation yeast. 'Shiro' is the Japanese word for 'white'.
Orion (Okinawa - lager on tap) $12
Suntory Premium Malt (pilsner) $9.80
Yebisu Black 375ml $17
Super creamy texture with hints of roasted malt and chocolate with clean finish.
Hitachino Red Rice Ale 7% $18
Complex sake-like flavours with sweet malt notes. Hints of strawberries on the nose and palate. An intriguing mix of sake, malt and bitter notes to finish.
Hitachino White Ale 5.5% $16
A refreshing craft beer from the kiuchi brewery in Japan. This mildly hopped ale has an award winning flavour with notes of coriander, nutmeg and orange peel.
Hitachino Dai Dai (IPA) 6.2% $16
Yasato is located on the eastern slopes of Mt. Tsukuba in Ibaraki prefecture. It is also known as the village of organic farming of fukure mikan, a native Japanese breed of mandarin orange used in the Dai Dai brew. The aroma includes some soft but distinct pine and orange peel. The body is clear and bright copper with a frothy, off-white head with moderate retention. The flavor at first is quite sweet, with a pungent tarty bite from the orange and hop acidity. The resin-like hop flavor follows, and the orange lingers into the finish with some bready malt sweetness.

Hitachino Espresso Russina Stout 7.5% $15
Notes of vanilla, dark fruit, cocoa and chocolate. Using the recipe of a russian imperia stout as base. Pitch black colour, big brown head. Aromas of chocolate, roasted bitterness, blackcurrants and dark fruit.
Baird Rising Sun Pale Ale 5.5% $19
This hoppy, brisk and refreshing pale ale is indescribably complex, but holds tenaciously to Japan's prime aesthetic value - balance.
Apple Truck Cider 9.80
Tilses orchard is situated at the foot of the Barrington Tops in the Hunter Valley and has been in the family since 1916. The apples are enriched by two mountain streams which run through the property helping to create what we think are some of the most beautiful red delicious and granny smith apples in the world.